COVID 19 MASS TESTING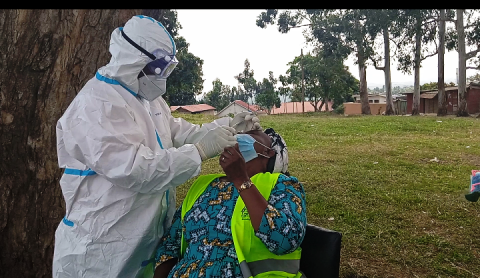 COVID 19 MASS TESTING
The ministry of health in conjunction with Mubende District Local Governemnt has launched a mass covid 19 testing exercise .
According to Mr. lubowa Deo Mubende district health officer this exercise will be carried out through out Mubende district is aimed at ascertaining the covid 19 prevalence and also help the community understand their status so that they can be able to seek timely treatment form the near by health facilities. Covid 19 testing will be carried out through community out reaches for a period of 14 days lubowa said 
Mrs Nakamatte lillian the chief Administrative Officer has appealed to the residents in Mubende district to go for the free tests for Covid 19 so that they can be able to know their health status and seek for medical attention.
Mrs Mary Nyakwera Bguma the Resident District Commissioner has requested to people to dis regard any false information about Covid 19 and always seek the truth form the profesional doctors and their leaders.